Experience the Feel-good Factor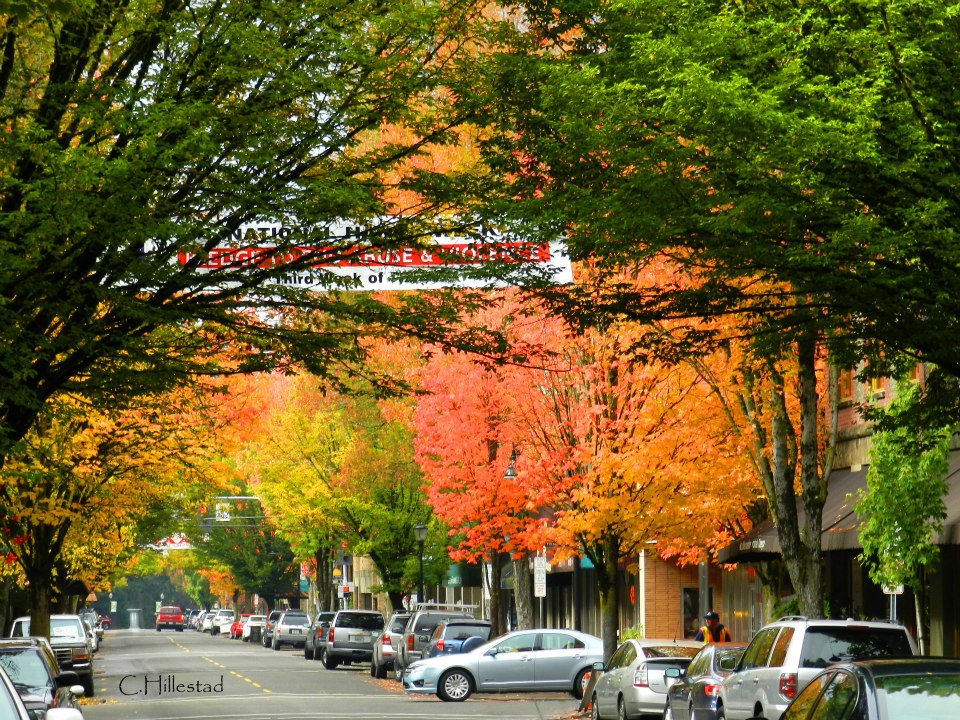 No longer the Northwest's best-kept secret, word is spreading about McMinnville. From Sunset magazine's billing as a top 20 "dream town" to Bon Appetit's rating as the second "best foodie town" in America, McMinnville's press is well-deserved. And those of us who call McMinnville home take it all in stride!  And the McMinnville Area Chamber of Commerce is happy to help serve as your host when you stop on by.
Living in McMinnville ups the feel-good factor on a daily basis. The combination of safety, livability, and strong community ties have been attracting and keeping residents for decades.
A picturesque natural setting – Douglas firs and native White oaks, vineyards and farmland, proximity to mountains and coast – and mild weather make this area an optimal environment to sink roots, grow, and flourish.
A healthy mix of professional services and jobs, along with affordable real estate, make McMinnville a practical, as well as attractive, town to find opportunity, raise a family, or retire.
If a Picture is Worth a Thousand Words then We Hope This Video Doesn't Break the Internet
The City of McMinnville
The City of McMinnville keeps residents active and involved from parks, recreation and the aquatic center to civic opportunities. Electricity and water rates are some of the lowest in Oregon thanks to McMinnville Water and Light.
McMinnville's Schools
The strength of a community's schools lay the foundation for a prosperous economy. McMinnville School District is home to more than 6,500 students and its schools consistently rate strong or exceptional on the State of Oregon report card.
Chemeketa Community College operates its Yamhill Valley Campus in McMinnville as a stand-alone campus for over 3,000 students since it was constructed in 2011.
Linfield College, a private, liberal arts college, offers 43 majors for bachelor degrees and an adult degree online program. Frequently ranked in US News and World Report as a best value in small colleges, Linfield offers athletic viewing and cultural events to McMinnville residents year-round.
Local Healthcare
Willamette Valley Medical Center boasts a cancer center, birthing center, imaging, sleep disorders center, a wound care center, and Innovative Joint Replacement Institute. WVMC has been recognized as a top performing hospital and received numerous awards and accreditation's.
Communications
McMinnville shines with small town hospitality and big-city services and conveniences. The News Register, the community newspaper, has been in publication since 1866 and KLYC, the local radio station, has graced airwaves for decades.
Now Come By for a Visit!
Whether you're considering a move, looking for a great vacation, thinking about starting/moving a business, or just want to swing by and say hi we're ready for you!
Visit McMinnville is the newest partner in promoting our amazing community.  Visit their website for more information on what to do and where to play in McMinnville.  While you're here make sure to visit some of our amazing McMinnville Chamber of Commerce members who will take great care of you.
The McMinnville Downtown Association works to promote and enhance our historic downtown as the economic, social and cultural heart of the community.
 McMinnville Economic Development Partnership
The McMinnville Economic Development Partnership is dedicated to introducing you to everything McMinnville has to offer and helping you prosper. Whether starting, relocating, or expanding your business, or hiring or training your team, we're the one call for answers and action.