McMinnville Awaits the Final Tally
By Nathan Knottingham, CEO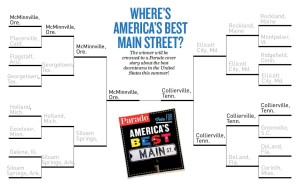 What a crazy week it has been.  From Sunday when a short email alerted Cassie and me to the Parade poll to Wednesday afternoon scrambling to reinforce the message to anyone who had not yet voted; this week flew by in a flash.  I wish we knew the outcome now, but really that would spoil some of the fun.  We all wait anxiously until August 17th for the grand reveal.
This poll that Parade Magazine hosted was fun.  Simply put as one author in the News Register viewpoints article said, "But win or not, Mac has gotten quite a ride out of this battle of the downtowns."  The pride that everyone showed during this week was inspiring, electrifying, and contagious.  My grandmother happened to visit downtown on Wednesday with some of her friends and before they left she said, "No matter the outcome the message was clear!  Every merchant on 3rd was telling us about the poll and encouraging us to vote."  She then asked me (her wonderful and techy grandson) to help her figure out how to vote on her phone.
It wasn't only my grandmother we heard from this week.  As the Visitor Center and Chamber of Commerce for McMinnville we are used to having visitors and guests from all over the area stop by and pick up information and directions.  But this time we had more than usual and were helping them cast votes on all their devices.  One wonderful lady from England even confirmed again what we all know so well, "I think this is the most charming main street I have ever experienced."  We had an international vote that day!
The question I sit with now is: how do we keep this spark of enthusiasm burning and turn it into a fire that powers our marketing and branding efforts going forward?  There are so many amazing businesses located in and around our town that are deserving of great recognition.  Tourism may be partly drawn to a fantastic main street, but it is the livability of our area, the ingenuity of our industries, the comradery of our citizens, and the blending of commerce with community that makes the difference.   It's the X-Factor that so many towns don't have yet.  It comes from a City Council that works hard to balance growth and business friendly policy with sustainability and services for all; from a Downtown Association that is steadfast and laser focused on their mission; the MEDP that works tirelessly to attract, retain, and support industry to provide jobs and growth for our economy; the Chamber of Commerce that advocates for business, builds networks and relationships, and promotes our community throughout the nation.
We have a lot to be proud of in McMinnville.  Downtown may be our "Living Room" but our entire House is beautiful.  I'm looking forward to the increased awareness that the Parade poll brought and the press from the News Register, Fox12 Oregon, the Oregonian, KGW, and so many others which has definitely left a positive mark as well.  No matter the outcome of this poll I look forward to calling on this community again in the near future as we work toward strengthening our brand as a destination location and tell our story to the world!