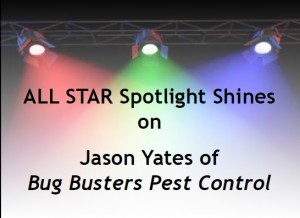 This month's ALL STAR PARTICIPANT OF THE MONTH is Jason Yates of Bug Busters Pest Control!
Bug Busters has been honored to be a part of the Yamhill County community since 1987 and tries hard to serve their customers with their signature down-home friendly service. Jason has served as the Service Manager for the last 18 months and has grown the customer base by 33% in that time.
A little about Jason…
Jason graduated from Portland State University in June with a Film Studies degree. He is an assistant Scoutmaster and Sunday School teacher in Newberg and has been married for six years to Holly and has two sons, Caleb (4) and Ezra (1). Jason is proud to announce he is running for U.S. Congress in Oregon's 1st District! Information can be found at www.yatesforcongress.com or by e-mail at yatesforcongresss@gmail.com.
If you happen to see Jason out on the street or perhaps helping you get rid of those pesky little friends, please congratulate him on being ALL STAR PARTICIPANT of the month! He continually strives to get his message out about how he can help you, and is a terrific supporter of the McMinnville Area Chamber of Commerce.
CONGRATULATIONS, JASON!