The Making of a Biggest Turkey
By Nathan Knottingham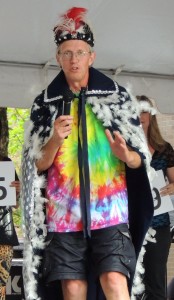 "So what exactly is the Biggest Turkey?"  The answer is simple, historical, and has nothing to do with turkeys.  Although the lineage of Biggest Turkeys in our town is rather distinctive ranging from former Mayor Ed Gormley, to Rhonda Fabreth and MANY others.
To win the coveted Biggest Turkey title a candidate must be sponsored by a non-profit.  That candidate serves as the face of their fundraising efforts for 3 months.  At the end of those 3 months, during the famous Biggest Turkey Lip Sync contest, a Biggest Turkey is crowned.  The crowning is determined by which Biggest Turkey Candidate raised the most money with their non-profit in the allotted time frame.
This year Ed Wanner was the candidate representing Mid-Valley Rehabilitation.  During the 3 month window of the Biggest Turkey contest Mid-Valley raised over $38,000, just edging out Habitat for Humanity's contestant Gretchen Phelps who raised over $37,500.  Ed was crowned, cloaked, and adorned with the Biggest Turkey title and trademark regalia after the Lip Sync contest as our 2014 Biggest Turkey.
All told the six non-profits this year raised a combined total of $142,519!
Next sentiment that usually follows is, "That's really great, and so who gets the money?"  That is the beautiful part of the whole Biggest Turkey Contest…every dollar given locally stays local!  Each non-profit this year put a little money up front to help cover costs and marketing (most did it with the help of a sponsor or two) and then every dollar raised during the events went directly to the charity and their mission.  Mid-Valley Rehabilitation will use all $38,025 raised to support their mission and provide the care and services their clients need.  Gretchen Phelps said that the $37,500 raised is half of a house funded already!  The money stays in our community to support our community.
So the Biggest Turkey is really just a fun award that has achieved a distinct honor.  Each non-profit and candidate win no matter the outcome because they have raised support for their mission, they've reached a greater audience than they could on their own, and they have a lot of fun.
To get involved next year interested non-profits should contact the McMinnville Area Chamber of Commerce and let us know as soon as possible.  We will have an informational meeting in January to prepare the field of tournament and start getting the excitement rolling for another amazing Biggest Turkey contest.
______________________________________________________________
2014's Competing Non-Profits were:
McMinnville Habitat for Humanity
Willamette Valley Cancer Foundation
Homeward Bound Pets Adoption Shelter
Please feel free to contact them as well if you have specific questions.