The McMinnville Area Chamber of Commerce is hosting it's second annual Economic Forum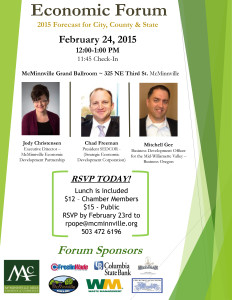 Join us on February 24th at the McMinnville Grand Ballroom, 325 NE Third Street, McMinnville from noon – 1:00 pm with check in at 11:45.
You'll be hearing from local (Jody Christensen, McMinnville Economic Development), county (Chad Freeman, SEDCOR) and state (Mitchell Gee, Business Oregon) panelists. The panel will address the attendees on what is happening in their field and how it will work down to our local economy.
RSVP to the chamber at rpope@mcminnville.org or 503.472.6196 by Feb. 23rd.
www.mcminnville.org
www.mcminnvillebusiness.com
www.oregon4biz.com
www.sedcor.com/about-sedcor
Thank you Economic Forum partners: Waste Management, JW Millegan, Columbia Bank, McMinnville Water and Light, Chuck Colvin Auto Center, and Freelin Wade!