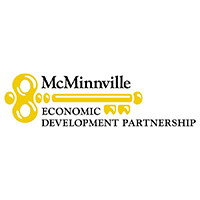 The McMinnville Economic Development Partnership (MEDP) is announcing its 2014 Advanced Manufacturing Initiative which includes making strategic investments of time and resources to help support the robust, diverse manufacturing base in our community. The MEDP initiative will involve increased participation in the expansion and outbound recruitment efforts with the Oregon TEAM program.
"Our experience on the Food Processing TEAM has been rewarding. It started as our first foray into the tradeshow arena as a recruitment effort.  We have since learned that the TEAM expertise have been valuable for our existing companies, like Betty Lou's in her recent expansion," said MEDP Executive Director Jody Christensen.
In 2014, MEDP's staff will continue participation on the Oregon Food Processing TEAM, which is launching its third year of outbound recruitment activities. The Oregon Food Processing TEAM will participate in the Northwest Food Processors Association Expo in Portland and the Fancy Food Show in San Francisco in January. The TEAM will also have an expanded booth at the Natural Products Expo West in Anaheim in March. This year six Oregon companies will be showcased in a collaborative booth. It was recently announced that McMinnville's Dundee Fruit Company (dundeefruit.com) has been chosen as one of the companies featured.
"Attending this show is a big step for our company in order to gain nationwide exposure and increase sales," said Dundee Fruit Company's owner Richard Sadler.
New this year, MEDP has been invited to join a pilot Advanced Manufacturing TEAM which has confirmed plans to attend FABTECH in Chicago in mid-November.  FABTECH is organized by the Fabricators & Manufacturers Association, International (FMA) and is North America's largest metal forming, fabricating, welding and finishing event.  McMinnville's Solid Form Fabrication (solidformfabrication.com) will be joining the TEAM as well as other Oregon companies.
About MEDP
MEDP serves as a one-stop business development office currently working on numerous industrial recruitment, retention and expansion projects.  The partnership includes the City of McMinnville, McMinnville Water & Light, McMinnville Industrial Promotions, McMinnville Area Chamber of Commerce, Yamhill County and area businesses. To learn more about the McMinnville Economic Development Partnership, please visit www.McMinnvilleEDP.com or "like" us at Facebook.com/McMinnvilleEDP.